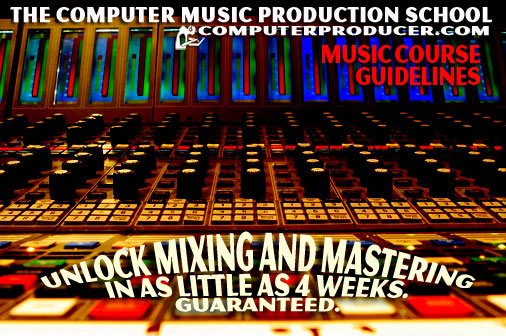 UNLOCK MIXING AND MASTERING
Every student has different needs and requirements for their specific goals, business and future.
If you are not sure if you have the right music equipment for this course, we recommend completing your enrollment to activate your one on one student advisor support. Let us help you get the best professional equipment at the price you can afford, stress free. 
RECOMMENDED PC COMPUTER SYSTEM
(Not Required before enrollment)
• Windows XP SP2 or higher, Windows Vista
• Intel® Pentium® 4 2.0 GHz Dual Core or AMD Athlon™ XP 1500+ or higher Processor
• Recommend either (2) separate internal Hard Drives 250GB or
• Recommend (1) internal Hard Drive and (1) external Hard Drive 250GB
• 1-2GB of RAM
• External Firewire / USB Audio Interface Required
RECOMMENDED MAC COMPUTER SYSTEM
(Not Required before enrollment)
• OS X v10.4.9 or later
• Mac PowerPC G4/G5, Intel Core Duo, or Intel Xeon processor
• Recommend either (2) separate internal Hard Drives 250GB or
• Recommend (1) internal Hard Drive and (1) external Hard Drive 250GB
• 1-2GB of RAM
• External Firewire / USB Audio Interface Required